Our beautiful church building, dedicated to St Thomas of Canterbury, has many fine features. Perhaps the best is the decorated ceiling in the Chancel.
The picture alongside gives an indication of the detail of the painting, but also indicates some of the problems it faces. 
Over the decades since it was painted, grime of various sorts, including soot from candles, has dulled the rich colours. The wooden panels of which it is constructed have dried out and shrunk, leaving gaps through which dust and damp from the roof has penetrated. And, sadly, enthusiastic but unskilled volunteers have attempted to clean it, leaving the paint damaged and faded.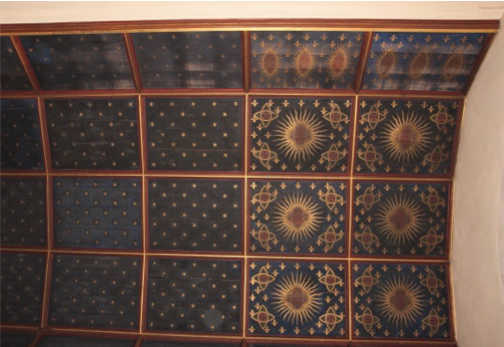 We are keen to preserve the decoration – and the ceiling itself – for future generations to enjoy. The Parochial Church Council (PCC) has therefore commissioned a detailed survey of the ceiling by an acknowledged expert, Peter Martindale, who is an Accredited Member of the Institute of Conservation. Peter has produced a 29-page report (available to view upon request) which includes microscopic analysis of paint samples and his recommendations on how to repair the fabric and return the paintwork to its former glory. But this work naturally comes at a cost.  Sadly the damage is more extensive that was first thought so more work is required; the cost is now estimated at a little over £20,000.  We are hoping to receive a grant that will help towards the total.
The building is used week by week as the church meets to worship God, but it is also valued as part of the life of Worting by many who do not attend regularly. The purpose of our appeal, therefore, is to give such people the opportunity to be a part of the project. One-off donations are very welcome; other people may prefer to give a small amount month by month, perhaps over the course of a year or two. The following questions might come to mind; if you have others, do get in touch.
The picture below shows two panels that were cleaned during the trial process and the neighbouring panels which are yet to be cleaned.  The work begins on 29 March 2021 and is expected to take five weeks.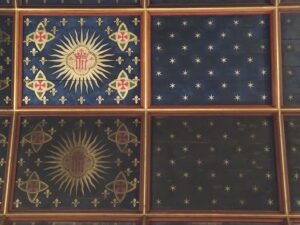 Fundraising progress so far...
Some Frequently asked Questions